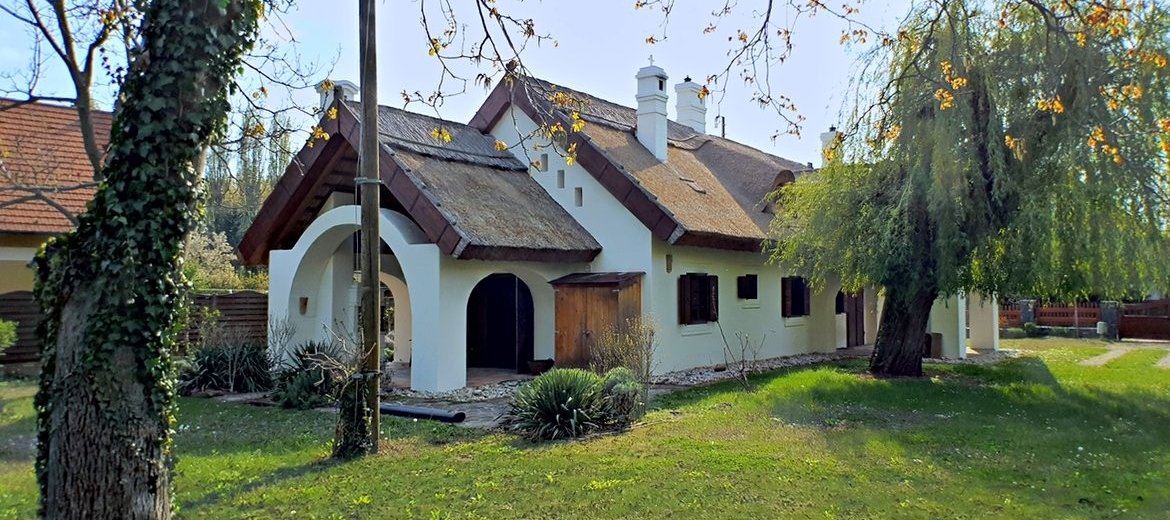 373.913

€
129.000.000

Ft
Get in contact
Ifj. Kozma László
Estate agent
+36 83 511 595
+36 70 701 8360
We speak your language
Call us during office hours:
8:00 am-5:00 pm (Mo-Fr), 9-12:00 am (Sa)
Answering machine outside office hours
We call you back next day!
info@capital99.hu
---
Ask for an appointment
Take a look personally with our professionals
Family House – 3666
code number: 3666
Construction year 2005
5 rooms
3 bedrooms
2 bathrooms
120 m² living area
Nicely tended cottage with thatched roof by the northern shore of Lake Balaton, near the Badacsony hill in a quiet lane near the beach and the harbour. The building is made up of two units with two separate entries. The two units can be used separately or as one, but they can be merged as well. For heating stays a gas central heating at disposal, as well as a tile stove. The garden is lovely tended, and nicely landscaped. The thatched roof was constantly maintained, it is not in need of refurbishment.
---
Data
Built in

2005
Renovated in

-
Number of Rooms

5
Number of Bedrooms

3
Number of Bathrooms

2
Plot Size

1076 m²
Total area

120 m²
Area

120 m²
floor

2
Energy class

-
Description
This settlement of about a thousand residents is situated on the northern coastline of Lake Balaton 9 km from Badacsony and 14 km from Tapolca, where the most famous cave lake of the country is situated. The settlement is famous for its natural surroundings and its ruin, where many entertainment programs await the visitors. There is a town hall, grocery store, post office, nursery school, school, library, restaurants and confectioner's shops in the settlement. Keszthely, the capital town of Lake Balaton is only 20 km away. Several trains and buses are run to Keszthely and Budapest daily.
Layout:
1. unit: downstairs: American kitchen + sitting room + terrace, bathroom (with bath tub).
Upstairs: room, room, bathroom.
2. unit: downstairs: big kitchen + dining room + terrace, bedroom, bathroom.
Upstairs: room, room, bathroom, sauna.
Fixtures:
– Electricity, gas, water and sewage mains, TV-aerial and internet are connected.
– Heating system: central gas heating with radiators, and tiled stove.
– Wooden windows with insulating panes.
– Floor coatings: wooden parquet, ceramic tiles.
– The lot is fenced off.
The data are based solely on the information given to us by our client.
We do not take any responsibility for the completeness, correctness or timeliness of the data. We reserve the rights of price alteration, data modification and meantime sale.
---
Prices
129.000.000

Ft

373.913

€

422.950

$

28.988.764

₽
---
Similar properties
Code number: 3453 Plot Size: 1940 m²
Area: 166 m²
Number of Rooms: 6 350.000

€

Code number: 3652 Plot Size: 1066 m²
Area: 198,98 m²
Number of Rooms: 4 340.000

€

Code number: 3651 Plot Size: 1200 m²
Area: 198,26 m²
Number of Rooms: 4 335.000

€