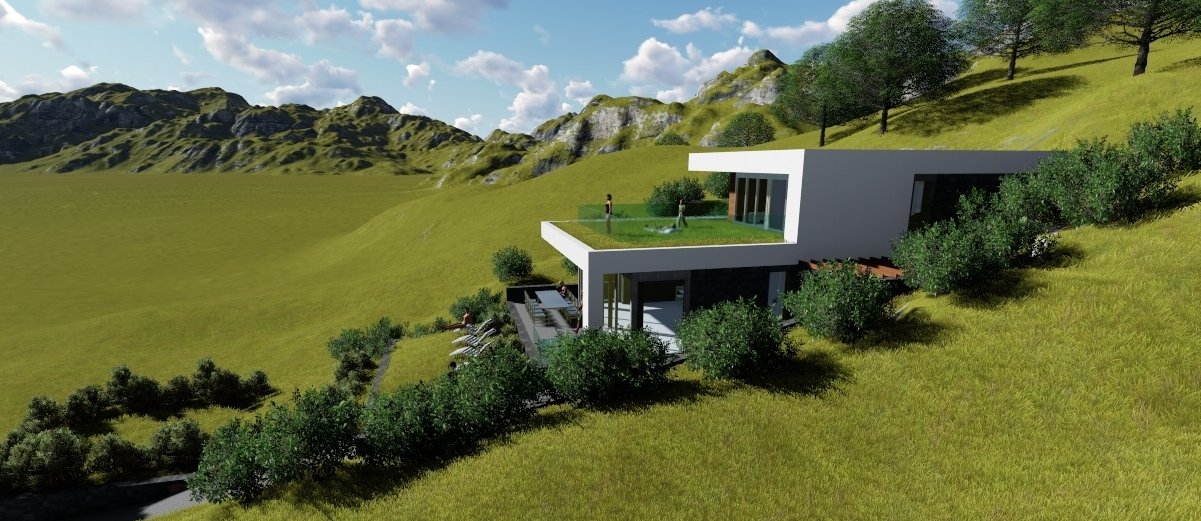 483.619

€
155.000.000

Ft
Get in contact
Ifj. Kozma László
Estate agent
+36 83 511 595
+36 70 701 8360
We speak your language
Call us during office hours:
8:00 am-5:00 pm (Mo-Fr), 9-12:00 am (Sa)
Answering machine outside office hours
We call you back next day!
info@capital99.hu
---
Ask for an appointment
Take a look personally with our professionals
Family House – 3525
code number: 3525
Construction year 2019
5 rooms
4 bedrooms
3 bathrooms
191 m² living area
Newly built, very exigently developed detached house on the north shore of Lake Balaton near Hévíz and Keszthely. Expected completion date is 30. September 2019. From the house and from the terraces there is an unobstructed view of the Lake Balaton. It is a unique, high-quality detached house!
---
Data
Built in

2019
Renovated in

-
Number of Rooms

5
Number of Bedrooms

4
Number of Bathrooms

3
Plot Size

730 m²
Total area

272 m²
Area

191 m²
floor

2
Energy class

-
Description
The settlement is a popular holiday resort mainly due to the recreational and sport facilities (bathing, sailing, fishing, surfing, hiking, cycling, playing golf, etc.) offered by the Lake Balaton. The proximity of the spa town Hévíz (approx. 7 km) is a special endowment of the resort. Hévíz has unrivalled natural Hévíz has unrivalled features: the world famous thermal lake operates all year round and eases the rheumatic pain of millions of people. Outstanding cafés, cinemas, restaurants and massage centres await their visitors. Many buses run from the bus terminal on a daily basis to Budapest and the nearby larger towns. Keszthely, which is a town with approximately 20,000 residents, is the commercial, economic and cultural centre of the region with numerous tourist attractions (Festetics Palace, Balaton Museum). There are a hospital, pharmacies, post offices, restaurants, shops and petrol stations in the settlement.
Layout: Downstairs: entryway 12.64 sqm, toilet 2.50 sqm, storage room 10.53 sqm, sauna 7.87 sqm, equipment room 9.13 sqm, corridor 5.85 sqm, kitchen 8.58 sqm, dining room 10.02 sqm, sitting room 30.29 sqm, room 16.10 sqm, toilet 2.20 sqm, bathroom 5.40 sqm. Roofed terrace 11.18 sqm, roofed terrace 14.20 sqm. Upstairs: room 12.60 sqm, room 12.60 sqm, anteroom 3.19 sqm, corridor 8.98 sqm, toilet 1.60 sqm, bathroom 4.90 sqm, bathroom 4.90 sqm. Terrace 37.45 sqm, roofed terrace 18.94 sqm.
Layout:
• Fully developed ( electricity, gas, water and sewage mains, internet)
• 38 cm thick wallbricks
• Plastic windows with insulating panes
• Heating system: central gas heating.
• Floor coatings: laminate, and ceramic tiles.
• Double garage, sauna, alarm system.
• The plot is fenced off.
The data are based solely on the information given to us by our client.
We do not take any responsibility for the completeness, correctness or timeliness of the data. We reserve the rights of price alteration, data modification and meantime sale.
---
Prices
155.000.000

Ft

483.619

€

536.332

$

34.368.070

₽
---
Similar properties
Code number: 3415 Plot Size: 1000 m²
Area: 148,1 m²
Number of Rooms: 5 385.000

€

Code number: 3462 Plot Size: 734 m²
Area: 136 m²
Number of Rooms: 4 390.015

€

Code number: 3253 Plot Size: 2158 m²
Area: 325 m²
Number of Rooms: 6 568.000

€